About Us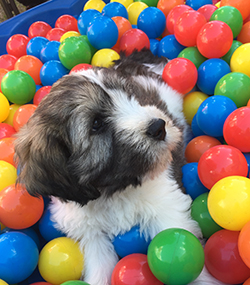 Allow us to introduce ourselves. Our names are Jenny Devlin and Steve Gough.
We currently live in Orlando, FL, the Sunshine State. Hence Sunshine PONs!
We fell in love with the Polish Lowland Sheepdog purely by accident. We met our first PON at the airport in Telluride, CO while waiting for our flight home from a ski trip. We saw a woman with a PON puppy and could not resist going over to see her. We fell in love. We had to know about this adorable dog so we went home and did our research on the breed. Having rescued many breeds in the past, the herding dogs were always my favorite. The traits in the PON was just the dog we were looking for.
We got our first PON in 2003. After two years of "on the job" training and learning to chose the right breeder for health and temperament, we got our second PON in 2005.
We were introduced to the world of showing in conformation and what a fascinating learning adventure it has been. We enjoy showing and meeting new friends and PON enthusiasts.
Our family has grown over the years and with hard work and dedication we are taking our knowledge, experience and love of the breed to the next level. Our goal is to preserve the integrity of the breed while striving for excellence! We put our heart and soul into raising and loving happy, healthy dogs!
We are very proud of our Grand Champions and their accomplishments. All of our furry kids are special to us. They each have their own individual personalities, which keeps life interesting and amusing! There is always entertainment around our house, so stop by sometime and join the fun!! Just be prepared to throw the tennis ball A LOT!!!
Thank You for visiting Sunshine PONs!!